UNSOS completes interoperability course for ATMIS and Somali National Army officers
Mogadishu - The United Nations Support Office in Somalia (UNSOS) has delivered  interoperability (IOP) training for the African Union Transition Mission in Somalia (ATMIS) and Somali National Army (SNA) officers, to enhance their knowledge and skills in Operations Room Management, briefing Commanders and Cyber Security.
The IOP training was part of UNSOS capacity building support to joint operations and coordination functions for ATMIS and SNA under the transition.
The training aimed to enhance the ability of military and police personnel to operate effectively and efficiently from the Joint Operation Centres (JOCs) recently opened in the sectors and the ATMIS Force headquarters.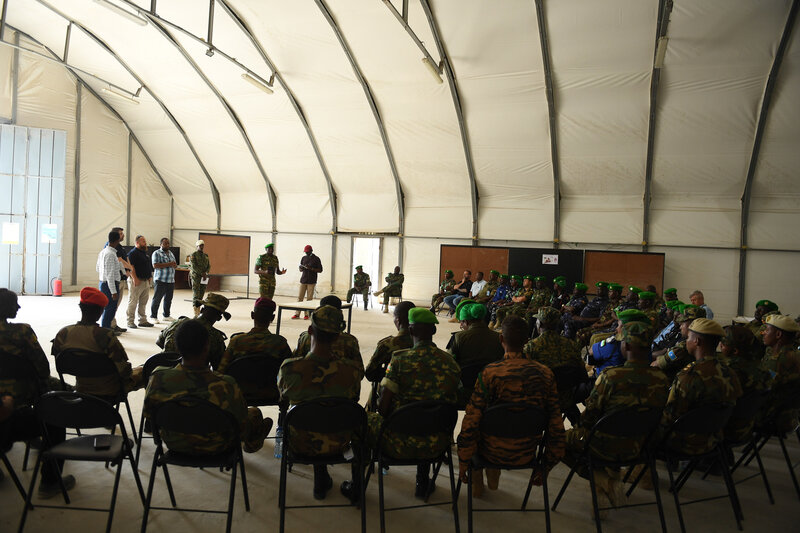 UNSOS Field Technology Services (FTS) team coordinated with stakeholders and facilitators from G4S Risk Management, a United Kingdom-based specialist protective services company, conducted the training.
During the training, participants acquired skills in briefing, cyber security, and management of the JOCs. Cyber security skills allow the military and police entities to defend themselves from online threats like hacking, while briefing is essential when making presentations to commanders during operations.
A participant from SNA, Lt. Hashi Mohamed, said the training was critical for improving operational skills and ensuring online safety for military and police personnel.
He added, "The lessons we have learned will help us perform our duties within SNA and ATMIS. We will also be able to practice what we have learned in an operational setting. I hope that this kind of training continues and gets more advanced in the future."
Another trainee, Lt. Col. Steven Mwewa from ATMIS, said the training has equipped the officers with knowledge and skills in interoperability, application, issuance of orders, watch keeping duties in operations rooms, setting up operations rooms, counterinsurgency, and principles of counterinsurgency operations.
"The training has enhanced our skills and our understanding of the operational environment, so we will be better prepared to deal with anything that may happen around us," said Lt. Col. Mwewa.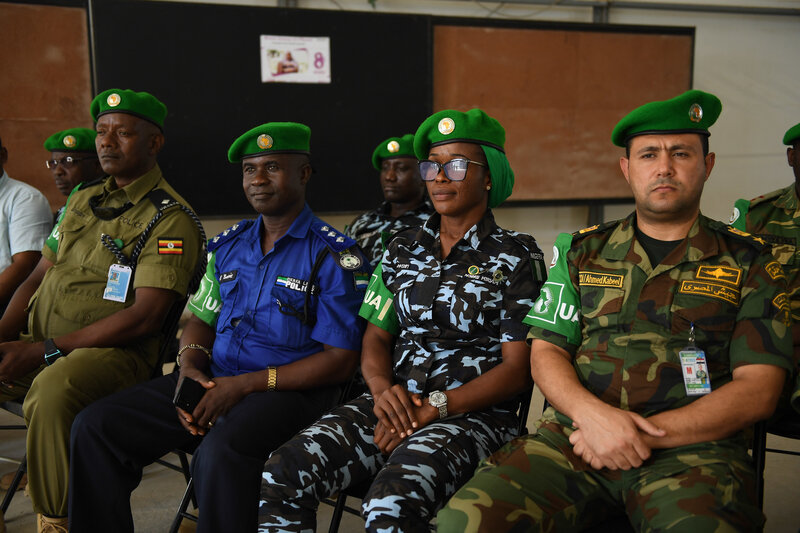 Assistant Superintendent of Police (ASP) Denis Lomelu said the training provided participants with insights into the risks of cybercrime and helped them learn how internet assists terrorists in accessing information.
"With the knowledge acquired regarding cybercrime awareness, we will be able to implement it and increase our understanding. Although cybercrime awareness takes time," added ASP Lomelu.
Maj. Rogers Mugabe, who represented the ATMIS Chief Training Officer, hailed UNSOS for organising the training and said it was timely.
"Learning has no limit. We need these skills because the operational theatre has changed and we need to keep reminding ourselves of what is best," said Maj. Mugabe.