UNSOS, ATMIS align modalities to decentralize logistic support in  sectors
Mogadishu - To ensure a seamless decentralization and prepositioning of authority at the Joint Logistics Operations Bases (JLOBs), the United Nations Support Office in Somalia (UNSOS) and the African Union Transition Mission in Somalia (ATMIS) have aligned modalities to enhance logistics support in Somalia. 
UNSOS logistics support remains vital in implementing the ATMIS mandate in Somalia to ensure logistics efficiency and timeliness of service delivery in the sectors.
The new modalities were discussed at a workshop attended by top officials from UNSOS, and ATMIS in Mogadishu on Tuesday.
UNSOS Director, Mr. Harjit Dhindsa said the review of the logistics support is in line with the UN Security Council Resolution 2628 which underscores the importance of ATMIS and Somali security forces working jointly with the UN on the delivery of the logistics mandate.
"We had to adopt our support concept to the operations of ATMIS AND SSF. The ATMIS Concept of Operation (CoP) is based on mobile forces and quick reactions. The mobile operation has to be agile," said Dhindsa.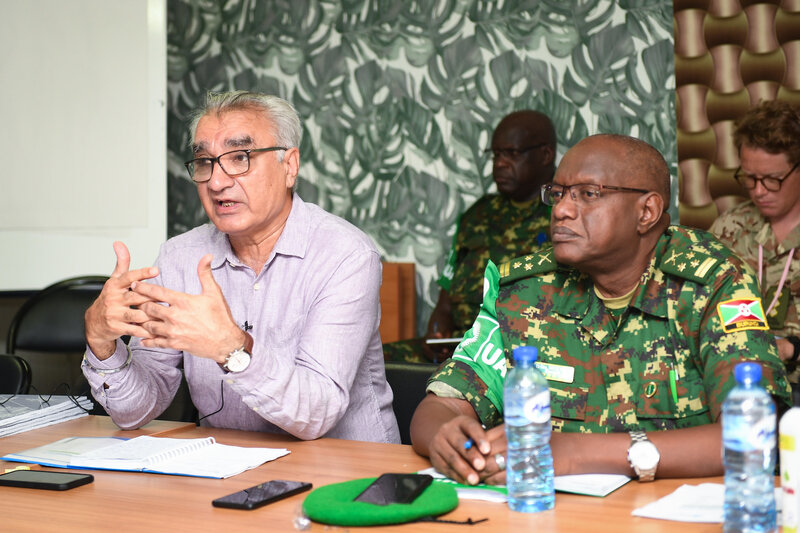 "We also realized that 90 percent of the planning and execution of the operations happen at the sector level. So, we jointly decided to decentralize logistics because we have a very effective sector headquarter," added the UNSOS Director.
UNSOS provides logistical support to ATMIS forces to sustain operations to secure and hold key population centres, open up Main Supply Routes (MSR) and protect civilians. In line with the National Security Architecture, UNSOS also provides logistical support capabilities to Somali Security Forces to enable them carry out joint operations with ATMIS forces.
The deliberations on the specific deliverables were a follow up on the first logistics conference held in July, where UNSOS and ATMIS held discussions on the tactical and logistical issues that are vital for the successful implementation of the ATMIS mandate.
 ATMIS Force Commander Lt. Gen Diomede Ndegeya expressed his satisfaction with UNSOS' logistical support that will facilitate the handing over of security responsibilities to the Somalia Security Forces by the end of December 2024. 
"This project is very welcomed because bureaucracy will be regulated. On timelines, we need to know when and which activities should be implemented to fulfill the benchmarks by 2024," said Lt. Gen. Diomede Ndegeya.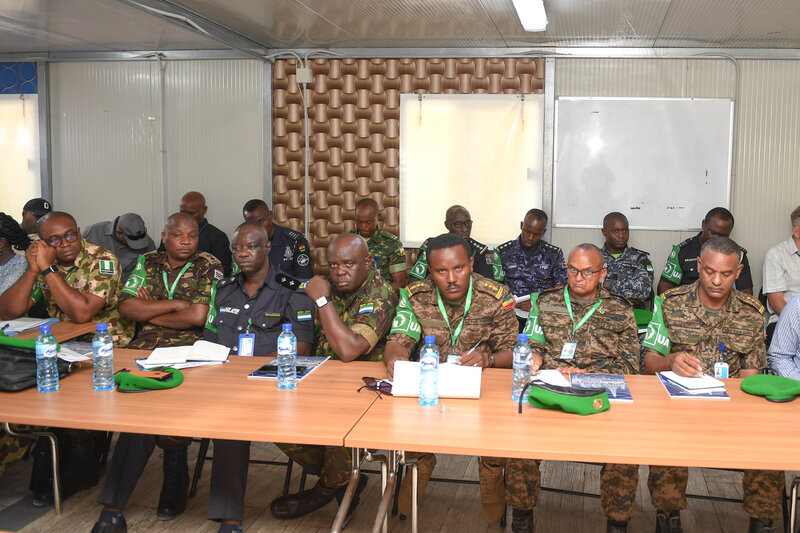 Col. David Mwogu, ATMIS Chief Force Engineer emphasized the importance of decentralization to fulfill the mandate of the mission. 
"We are drawing down but it does not mean that we will lose our guards. The more you draw down, the more your strength reduces, and the more you have to enhance your capabilities in order to enhance force protection and to be effective," said Col. Mwogu, who represented the Deputy Force Commander Support and Logistics. 
Among other responsibilities, UN Security Council Resolution underscores the importance of ATMIS and the Somali security forces working jointly with UNSOS on the delivery of logistics support, integrating UNSOS into planning for military operations, ensuring convoy and airfield security, protection of civilians and protecting main supply routes.