Head of ATMIS visits Aviation Services sections
Mogadishu – The Head of the African Union Transition Mission in Somalia (ATMIS), Ambassador Mohamed El-Amine Souef, on Tuesday 8 August visited the Aviation Services sections to familiarize himself with integration of the operations of the Units and their contribution to peace support operations in Somalia.  
Head of the United Nations Support Office in Somalia (UNSOS), Assistant Secretary-General Dr. Aisa Kirabo Kacyira accompanied, Ambassador Mohamed El-Amine Souef on the tour to showcase the integration between UNSOS, ATMIS and the Somali Security Forces (SSF). This she said, was a demonstration of the capacity building and mentorship of SSF ahead of the drawdown of ATMIS troops from Somalia. 
Ambassador Souef hailed the Aviation Services section for its role in facilitating ATMIS operations. - In addition, he commended Aviation Services for employing Somali nationals, including women to support their career growth.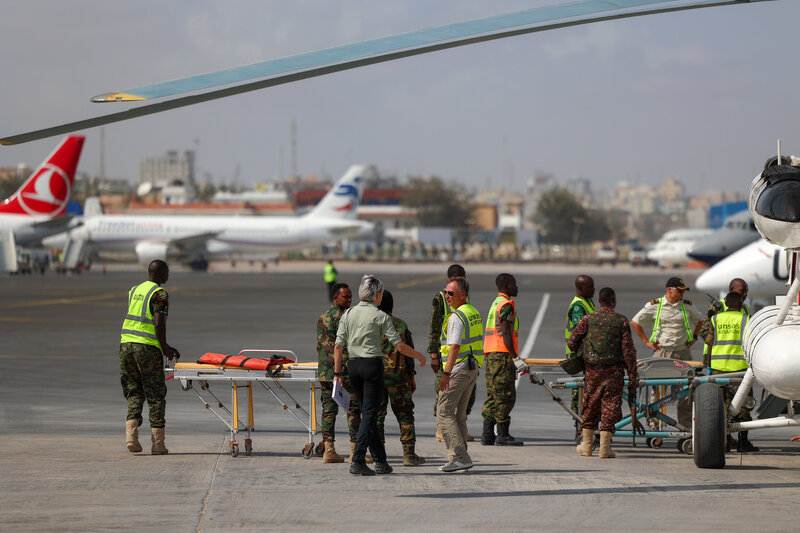 "I advise the national staff particularly our sisters to take advantage of this opportunity and improve their skills. Tomorrow you will apply for international opportunities and share the experience of working in Somalia," said Ambassador Souef. 
"What is inspiring to me is that we are seeing ATMIS, SSF and UNSOS as well as civilians, including young people working together towards a common goal. What can we do in this period of drawdown to enhance the capacity of the SSF and the government and the people of Somalia? I think this is one of the best practices," said Dr. Kacyira. 
Aviation Services sections are manned by transport and aviation specialists who facilitate the movement of passengers and cargo as well as the maintenance, safety and security of aircraft within the mission area.  
Aviation Services provides air operations support, combat operations and coordination of medical and casualty evacuations for ATMIS military personnel as well as the Somali Security Forces (SSF) in joint operations with ATMIS troops. 
The section which operates from the Aden Abdulle International Airport in the capital Mogadishu, also runs operations in the regional towns of Baidoa, Beletweyne, Dhobley, Jowhar and Kismayo.  
During the tour conducted by UNSOS Chief of Service Delivery, Leopoldo Co, Dr. Kacyira promised to present a comprehensive plan to support capacity building at the Aviation Services section following a request by the Chief of the Joint Air Operations Centre, Dr Silvanos Gwarinda. 
UNSOS provides logistical support to the United Nations Assistance Mission in Somalia (UNSOM, ATMIS and the Somali Security Forces during joint operations with ATMIS forces.