Excelling at learning and development during a pandemic
In spite of the hard-hitting coronavirus pandemic that necessitated the cancellation of all contact trainings that were to be conducted both inside and outside the mission area, the UNSOS Field Technology Section (FTS) has managed to facilitate continuous e-learning to AMISOM's military and police forces, on various topics. These include skills training on business continuity, crisis and emergency management, disaster recovery, supply chain, project management, and leadership, all delivered via Skillsoft and CBT Nuggets platforms.
Between April and July 2020, a total of 80 participants (72 male and 8 female) were involved in these trainings, and a second cohort begun its training in August, anticipated to run until January 2021. The resilience of the FTS Signals Academy training support has bridged a mammoth gap in devastating circumstances.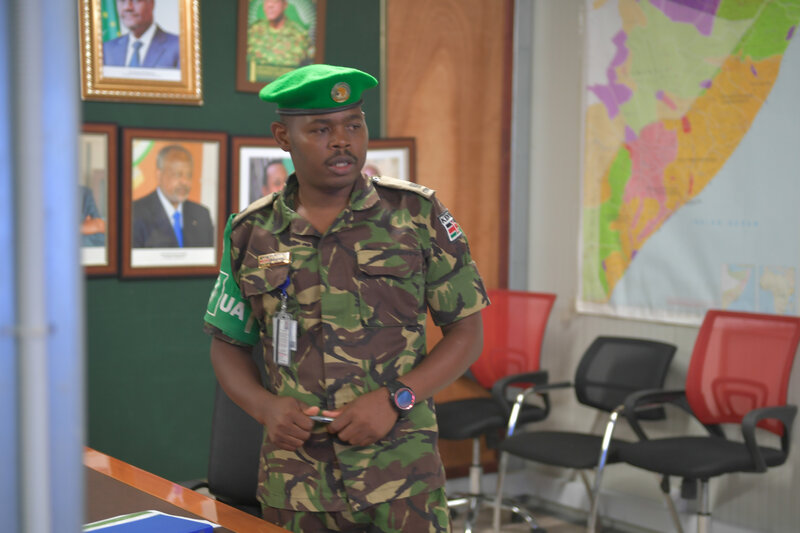 Major Paul Wairagu gives opening remarks at a  training conducted virtually for Sectors 1, 2 and 6 from the force headquarters in Nairobi.
Major Paul Wairagu, the Programme Coordinator of AMISOM's military forces, was bestowed with the responsibility of coordinating the programmes with FTS. The two programmes bridged the gap in continuity of training, given the anxiety amongst the trainers, training organizers and even the training providers. Electronic learning and online training is self-driven, and this motivated the learners in a very profound way. Capacity building and interoperability training for the newly deployed personnel is key in enhancing achievements of the mission's objectives. This is one area that required intervention since they had newly rotated-in troops, who had not been adequately acquainted to operate in the AMISOM environment. Moreover, these engaging activities during the period were paramount for stress and anxiety relief.
"Since these trainings begun, we have witnessed a lot of individual knowledge enhancement in project management, IT operations, data, and cloud services, among others. This has enhanced the staff officers understanding of various key concepts that enable them to perform their duties with ease. AMISOM now records a cohort of more enlightened and capable officers and staff who participated in the training," said Major Wairagu.
The benefits of these virtual engagement sessions go even further to touch on the well-being of the officers, during this period. A burnout test that was conducted within the Force Headquarters (FHQ) staff while undertaking a Stress Management Training indicated that 74% of the officers indicated little to no signs of burnout.
AIP Christine Nankya of AMISOM Police Induction Training Unit, who was this training's coordinator between AMISOM Police and UNSOS FTS.
Further, within the AMISOM police, between February and December 2020, the trainings conducted via CBT Nuggets had 224 learners undertake 1,213 courses; while Skillsoft had 130 learners who completed 6,348 courses.
Prior to the training, there were gaps in manpower development and human resource management. AMISOM Police needed more training programs in areas of leadership and confidence building to enhance efficiency in their role of mentoring and capacity building of the Somali Police Force personnel.
"After the training, there was a tremendous change in the way the officers executed their duties. The mentoring skills acquired would later be exhibited in their mentoring sessions to personnel of the Somali Police Force. Officers also acquired knowledge in organizing and conducting virtual meetings and this has been so helpful to them most especially in this COVID-19 era where almost all meetings and trainings have gone virtual in the bid to mitigate the spread of the deadly pandemic," said Christine Nankya, the Induction Officer at AMISOM's Police Unit. "The AMISOM ICT experts have acquired up-to-date technology, which has enhanced their professional competence in handling the new AMISOM ICT equipment as well as cyber security management," she concluded.
There is also no doubt that the knowledge acquired in the fields of crisis and risk management is very timely as the officers prepare for the forthcoming general elections in Somalia. Participants have also acquired skills in effective communication and delegation of powers which has greatly impacted their service delivery.