UNSOS Supports a Monitoring and Evaluation Training in Peace Support Operations (PSOs) for AMISOM Senior Officers
Mogadishu – The United Nations Support Office in Somalia (UNSOS) supported the African Union Mission in Somalia (AMISOM), in a just concluded five-day training event in monitoring and evaluation for its senior officials, aimed at enhancing efficiency and effectiveness in the implementation of the Mission's mandate.
The Monitoring, Evaluation and Learning for Peace Support Operations in Africa Course (MELPAC) for AMISOM, facilitated by the Kofi Annan International Peacekeeping Training Centre (KAIPTC), was held in Mogadishu, Somalia, from 3-8 October 2021.
The training follows a needs-assessment conducted by the KAIPTC in 2019, for both the African Union (AU) and the Economic Community of West African States (ECOWAS) on how best to improve monitoring and evaluation mechanisms to support operations.
At the opening in Mogadishu, Somalia, the Deputy Head of AMISOM, Simon Mulongo, said as a Mission it was important to learn best practices to ensure AMISOM delivers effectively on its mandate.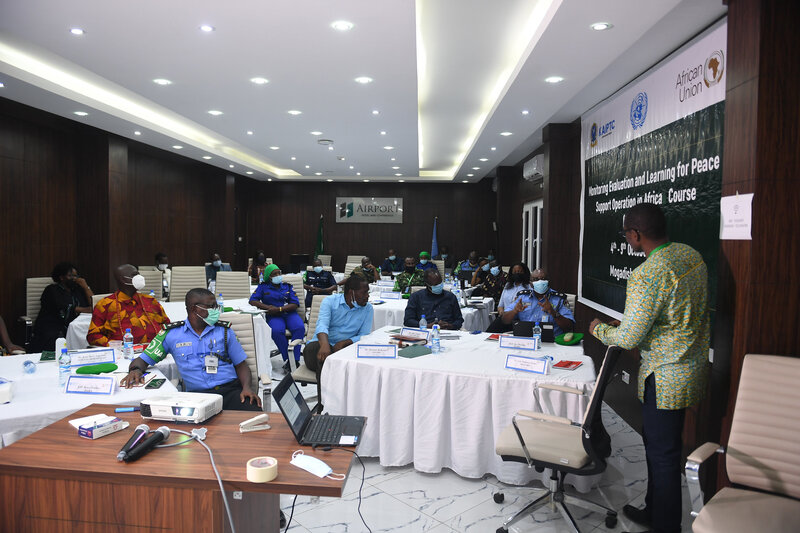 "As a mission we will continue to improve on our monitoring and evaluation mechanisms to ensure the best use of resources and effective output", he said.  
The Commandant of the Kofi Annan Peacekeeping Training Centre, Maj. General Francis Ofori, said the training had been tailored specifically to support Peace Support Operations (PSOs) Missions across Africa.
He said: "This training has been designed within the context of Africa and the challenges peacekeepers encounter in ensuring a secure and stable continent".
The training, also facilitated by the AU Political Affairs Peace and Security (PAPS) Department and the United Nations Office to the African Union (UNOAU), aimed to equip the participants with skills to better quantify performance and show the impact of the Mission's programmes in Somalia.
At the closing ceremony, the Special Representative of the Chairperson of the African Union Commission (SRCC) for Somalia, Ambassador Francisco Madeira, noted that the training will help provide more clarity on the performance of the Mission.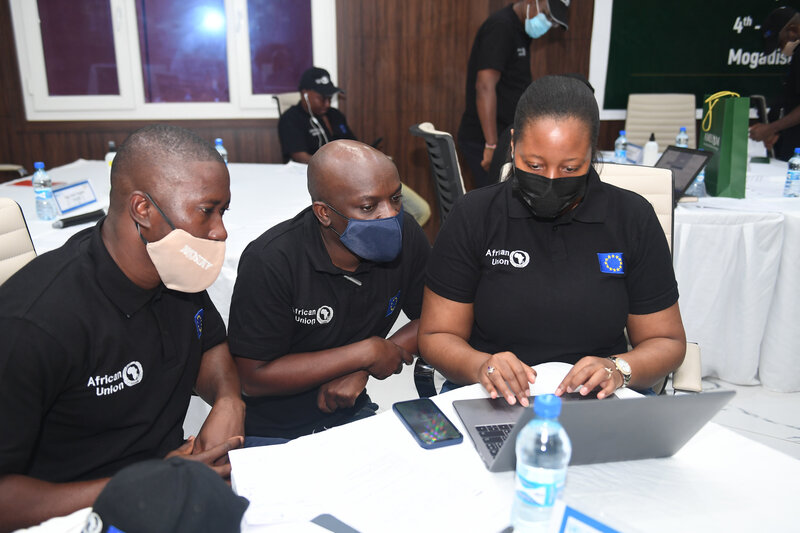 "Existing monitoring and evaluation mechanisms, though robust, remain sophisticated and sometimes do not provide greater clarity on what constitutes success. This brings to the fore the need to establish a common agreement and understanding in measuring the efficiency of the Mission," said Ambassador Madeira who is also the Head of AMISOM
"This training comes in handy for us to have a homegrown method of determining not only performance but the impact, efficiency and measurable outputs of our projects and programmes," he concluded.
Present at the closing ceremony of the training was the AMISOM Force Commander, Lieutenant General Diomede Ndegeya, and the AMISOM Police Commissioner, Assistant Inspector General of Police (AIGP) Augustine Magnus Kailie.