UNSOS marks 16 days of activism with a call to action to end Gender Based Violence
Mogadishu — Commemorations of the 16 Days of Activism against Gender-Based Violence continued in Mogadishu, Somalia, with the United Nations Support Office  in Somalia (UNSOS) committing to redouble efforts to address violence against girls and women everywhere.
"Every girl has the right to have a peaceful and secure life and have their ambitions met, whatever those ambitions are. Today is a day to stand tall with all our sisters around the world, with our brothers beside us, to support us," the Head of UNSOS, Ms. Lisa Filipetto, said at an event in Mogadishu on Wednesday.
The 16 Days of Activism against Gender-Based Violence is an annual campaign that begins on 25 November, the International Day for the Elimination of Violence against Women, and runs through International Human Rights Day on 10 December.
This year, the UN is marking the 16 Days under the theme "UNiTE! Activism to end violence against women and girls," while encouraging everyone to get involved; from amplifying the voices of survivors and activists to supporting women's organisations, reducing and preventing violence against women and girls, and protecting women's rights.
"One in every three women has faced some form of gender-based violence, and it doesn't matter whether it's psychological or physical. This means that many women have been through traumatic events," the UN Secretary-General's Deputy Special Representative for Somalia, Anita Kiki Gbeho, said in her remarks.
Formally recognised by the United Nations in 1999, the 16-day annual campaign was started by activists at the inauguration of the Women's Global Leadership (CWGL) in 1991, alongside other participants to call for the prevention and elimination of violence against women and girls.
"We have always been advocating for the protection of women and we reaffirm the need for laws that protect not only Somali women but women around the world as well," said Sahara Mohamed Ahmed, the Chief Director of the Somalia Women Development Centre(SWDC), while honouring survivors, responders, activists and campaigners working to end violence against women and girls.
A Call to Action
Globally violence against women is on an upward increase scale, with Ms. Lisa Filipetto citing the continued disruption of lives occasioned by domestic violence.
"Domestic violence cuts down the futures of children and communities, and that's why we unite to commit ourselves to join all our efforts to eradicate domestic violence," she said.
Marco Garmignani, Director of Law at the United Nations Assistance Mission in Somalia (UNSOM) stressed the need for the UN to join the global community in taking tangible actions to prevent violence against women and girls.
"In Somalia, displacements linked to climate change are further exacerbating the risks for those in shelters or temporary settlements. Let's make their voices heard! Women face greater barriers in reporting violence and in accessing essential services including access to justice. Let us all act now!" said Garmignani.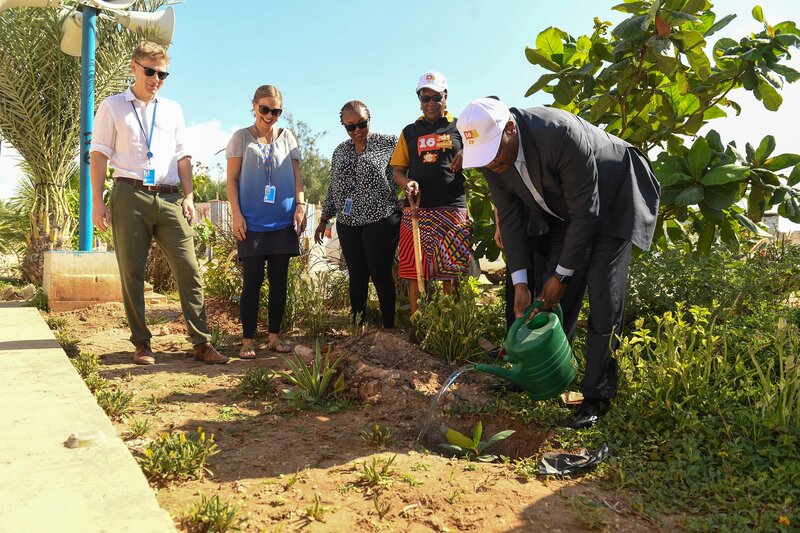 Tree planting
The United Nations Sustainable Development Goals (SDGs) number 15 emphasizes the need to stop desertification and man-made deforestation in order to preserve lives, and reduce the risk of climate change. 
With the prolonged drought and famine affecting Somalia, which has affected a huge population, mainly women and children, UNSOS held a commemorative tree planting event aimed at achieving this goal.
Sadique Syed, the Head of UN Women Somalia, said that "trees are essential" but added that climate change is critical in addressing violence against girls and women " we[Somalia] are facing severe drought which may also take the turn of famine, and there are fears that more than 7.9 million people are affected out of which 80 percent are women which is highly concerning."