UNSOS help train ATMIS officers on fuel supply and consumption
Mogadishu - To ensure environmental safety and energy efficiency, the African Union Transition Mission in Somalia (ATMIS), with the support of United Nations Support Office in Somalia (UNSOS), recently helped train military and police personnel on efficient use of fuel resources. 
A joint fuel logistic workshop, organized by UNSOS Fuel Unit, and ATMIS Joint Support Operations Centre (JSOC) was aimed at ensuring continuous and timely provision of proper quantity and quality of Petroleum, Oil, and Lubricants (POL) in an eco-friendly manner. 
"Sustainability is one of the topics we will explore as ATMIS, UNSOS, UN Assistance Mission in Somalia (UNSOM), and Somali National Army (SNA). In other words, how can we use technology and transparency to build a sustainable fuel function from upstream with contractors to downstream with end users?" said Michael Dorn, UNSOS Chief Service Delivery Officer.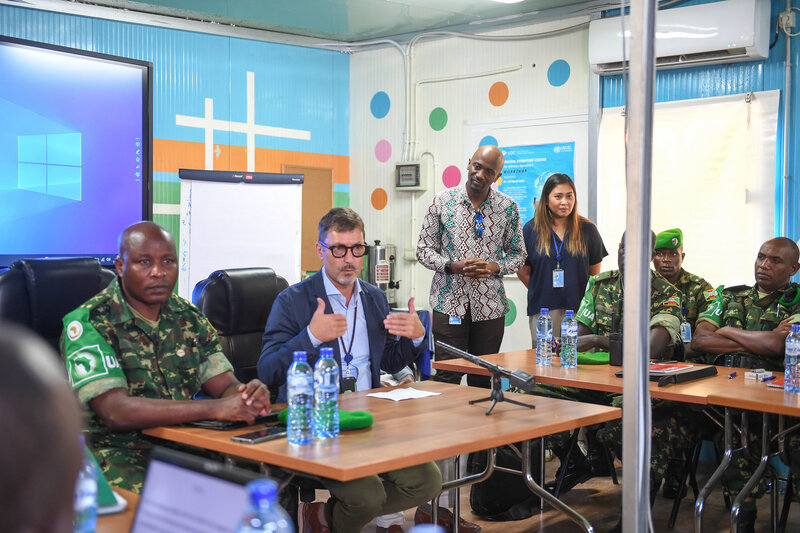 UNSOS serves as a vital logistics backbone to ATMIS, enabling contingents to operate both UN-owned and Contingent-owned equipment safely and effectively, as well as providing pre-deployment and in-theatre training.
"Fuel is a valuable resource that should be managed responsibly and sustainably. As ATMIS draws down its troops, it is important to leave positive legacy, with no negative impact of POL on the environment," stated Phillip Mugabi, UNSOS Fuel Officer.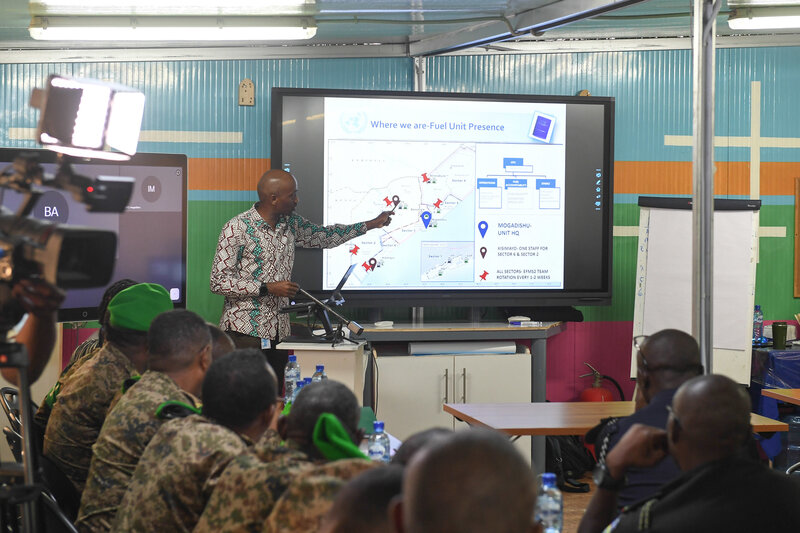 ATMIS Deputy Force Commander in-charge of Operations and Plans, Maj. Gen. Marius Ngendabanka, said that a planned second phase of ATMIS-Federal Government operations against the terror group would require an increase in the demand for fuel and lubricants. 
"The increased number of operations will automatically increase air support and fuel requests," said Maj. Gen. Ngendabanka, adding: "This workshop is a perfect opportunity for trainees to know how much quantity of oil, fuel and lubricants must be issued based on the needs of contingent equipment."
The workshop came at a time when ATMIS is preparing to conduct an assessment to inform the next phase of planned troop withdrawal for September 2023. Last month ATMIS drew down 2,000 troops in compliance with UN Security Council Resolutions 2628 and 2670 (2022) and handed over security responsibilities in selected Forward Operating Bases (FOBs) to Somali Security Forces. 
Col. Bosco Sibondavyi, ATMIS Chief Logistics Officer said, "the intention of this training is to expand knowledge and improve the understanding on fuel and lubricants push quantity." 
The training is also aimed at identifying obstacles that hinder appropriate and timely supply of fuel, which is one of the crucial products required for the successful operation of ATMIS' FOBs.
Participants gained an in-depth understanding on Push quantities for bulk fuel requirements, oil reporting requirements, the challenges and impact on ATMIS contingents, and the requirements for non-routine fuel among others.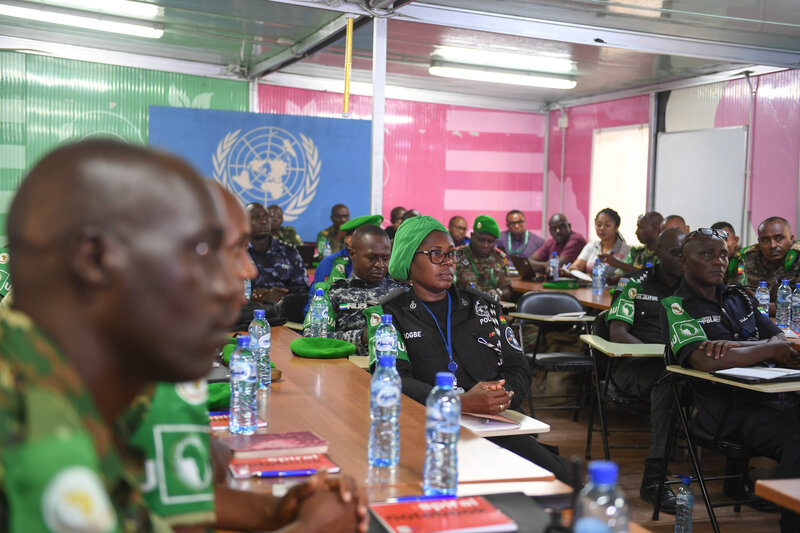 Assistant Superintendent of Police (ASP), Rejoice Dogbe stated that the knowledge gained obtained would aid in reducing waste and increasing efficiency.
"It is a course that will help minimise wastage and account for whatever we are given so that the Mission can see the benefit of the support provided to us," said ASP Dogbe, the Logistics Officer for the Ghana Formed Police Unit (FPU) based in Baidoa, Southwest State.
As part of efforts to reduce its carbon footprint emissions, ATMIS with support from UNSOS, has started replacing most of its power generators in the FOBs with solar power. However, as a peace enforcement mission, its operations still require the use of vehicles, aircrafts, and other fuel consuming equipment. 
For years, UNSOS has been the primary source of ATMIS fuel supply; diesel and jet fuel across Somalia from Mogadishu to Baidoa, Kismayo, Dhobley, Jowhar and Beletwenye.