UNSOS and ATMIS commission a new Parking facility at the Aden Abdulle International Airport in Mogadishu
Mogadishu – As part of efforts to reduce congestion and enhance security at the Aden Abdulle International Airport in Mogadishu, the United Nations Support Office in Somalia (UNSOS), the African Union Transition Mission in Somalia (ATMIS), and the Federal Government of Somalia (FGS) on Monday commissioned a new parking facility adjacent to the Airport Gate. The project was funded by UNSOS and undertaken by ATMIS.
The facility with an estimated capacity to accommodate over 500 vehicles, was presented to the Somalia Minister of Transport and Civil Aviation, Fardowsa Osman by ATMIS Officer-in-Charge (OiC), Mathias Ngarambe and outgoing Head of UNSOS, the Assistant Secretary- General, Ms Lisa Filipetto.
Mathias Ngarambe, said the parking facility, was a significant step to decongesting the Airport following an increase in traffic due to the improved security situation in Somalia.
"Due to increased traffic around the airport area, it takes a lot of travel time for vehicles to move across the main airport road. With this new infrastructure, movement in and around the airport should ease off for all including travelers and other road users," said Ngarambe who represented the Head of ATMIS, Ambassador Mohamed El-Amine Souef.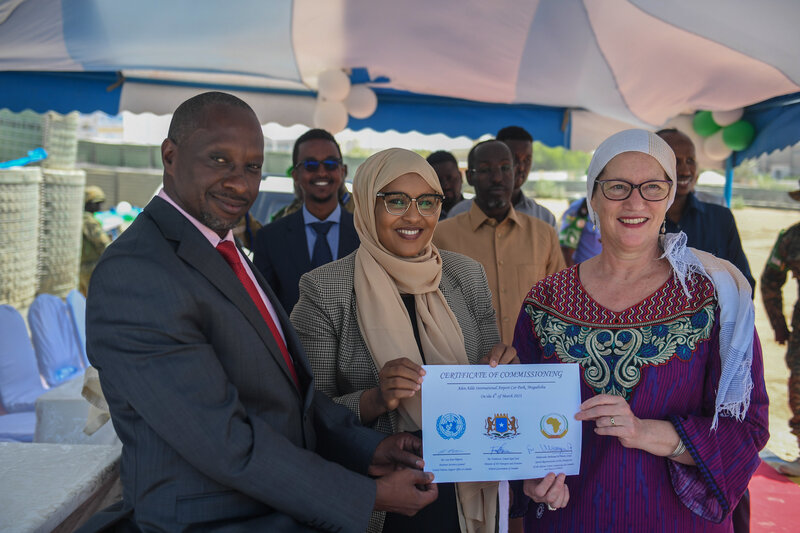 Ms. Filipetto, noted that the parking space is an important enabler in enhancing the status of Mogadishu as a hub for aviation and land transport in Somalia.
"The commissioning of this facility is testimony of the close collaboration between the UN, the Federal Government of Somalia and the African Union Transition Mission in Somalia in supporting Somalia's vision for a prosperous country. It will provide all road users with a better experience," said Ms Filipetto.
The Minister of Transport and Aviation, Fardowsa Osman, expressed her gratitude to ATMIS and UNSOS for the facility.
"This multi-purpose facility will include a parking lot and shops to enable traders safely conduct businesses around the airport," the Minister said. The Minister was hopeful that the business community and partners will support the further development of the facility.