United Nations Under-Secretary-General Visits Forward Operating Base in Somalia
Dhusamareb - The United Nations Under-Secretary-General of Operational Support, Mr Atul Khare, yesterday visited one of the Forward Operating Bases (FOB) of the African Union Transition Mission in Somalia (ATMIS). The visit in the Sector Four area of operations followed a meeting between Mr. Khare and President Hassan Sheikh Mohamud, the President of the Federal Republic of Somalia.
The FOB, currently under the Djibouti National Defence Forces area of operations, is among those scheduled to be transferred to the Somali National Army (SNA) during the second phase of the ATMIS' phased withdrawal this month. The first phase of the planned drawdown concluded successfully end-June with the withdrawal of 2,000 troops.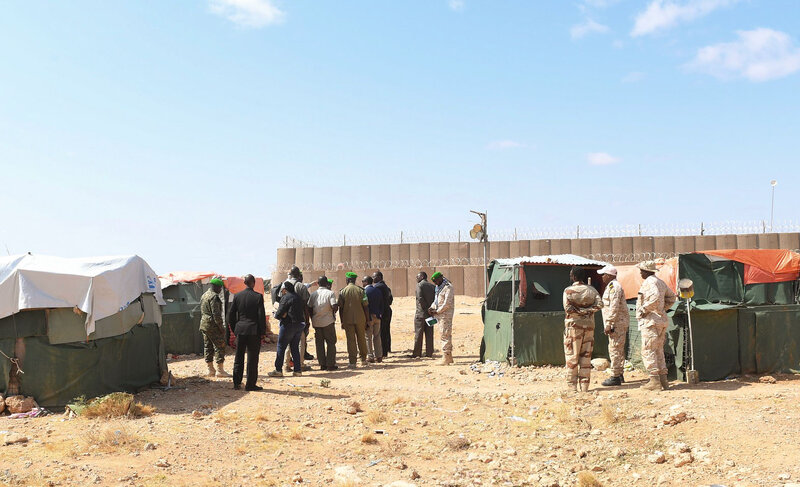 During the visit, Major Ali Ibrahim Ali, the FOB Commander, provided the guests with a brief history of the base. The FOB was originally established during elections and has continued to operate to enhance security in Dhusamareb.
Major Ali expressed gratitude to the UNSOS for its logistics support to ATMIS and the Somali Security Forces (SSF), emphasising the role played by this support in promoting peace in the country.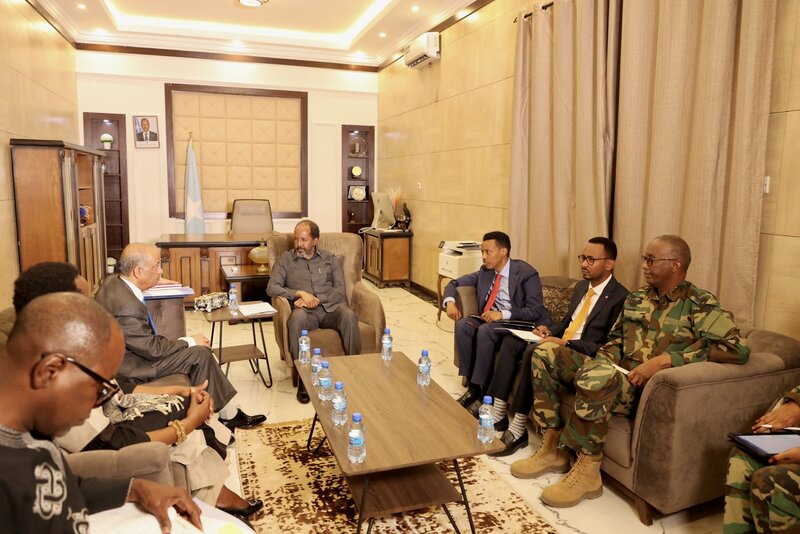 Mr. Khare also expressed his appreciation for ATMIS' training and mentoring of the SSF, especially in their efforts against the extremist group Al-Shabaab. He inspected UN owned equipment earmarked for donation to the SSF and highlighted the importance of equipping the SSF and ensuring they are proficient in using and maintaining the provided equipment. Mr. Khare emphasized that this transition was crucial for the Somali National Army to assume its sovereign responsibilities.
"As you withdraw, our effort is to ensure that SNA are enabled to take over control as this is their sovereign responsibility. This requires two elements: Capacity building of the SSF through training and education and equipment without which the training would not be useful," he said.
The Special Representative of the Chairperson of the African Union Commission (SRCC) for Somalia and Head of ATMIS, Ambassador. Mohamed El-Amine Souef extended gratitude to Mr. Khare for his visit to Dhusamareb and his meeting with President Hassan Sheikh Mohamud.
He acknowledged the ongoing collaboration between ATMIS, the United Nations Support Office in Somalia (UNSOS), and the SSF on the ground, underscoring the importance of such partnerships in achieving common goals.
"The Federal Government of Somalia and ATMIS both expressed appreciation for the support received from UNSOS and also the very good tripartite collaboration amongst #SSF, ATMIS and UNSOS on the ground," he said.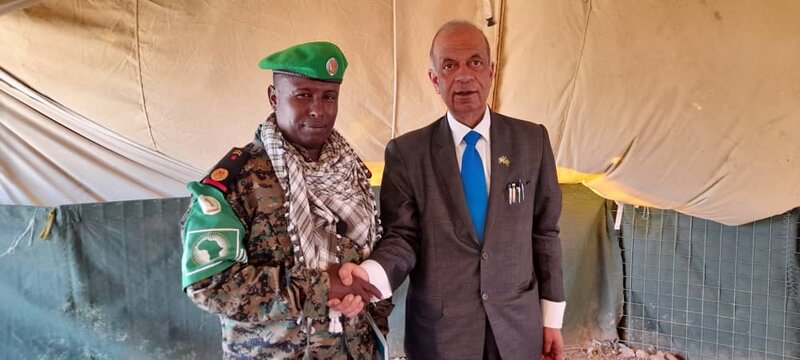 Mr. Khare was accompanied by Assistant Secretary-General Dr Aisa Kirabo Kacyira, Head of UNSOS, the National Security Advisor Hussein Sheikh Ali and the Chief of Staff Office of the President, Abdihakim Yusuf and several other dignitaries, including the ATMIS Force Commander Lt. Gen. Sam Okiding and ATMIS Deputy Police Commissioner Martin Amoru.
This visit and ongoing cooperation between international organisations and the Federal Government demonstrate the commitment to stabilising and securing Somalia, a vital step toward lasting peace in the region.