UN in Somalia leads a beach clean-up exercise to mark World Environment Day
Each year 5 June is celebrated as World Environment Day. It is the United Nations (UN) flagship day for promoting worldwide awareness and action for the environment. It is observed by billions of people all over the world.
The 2021 theme is "Ecosystem Restoration,"  with an emphasis on resetting our relationship with nature. It also marks the official start of the United Nations Decade for Ecosystem Restoration, starting from 2021 to 2030. 
2020 was a year of reckoning, with several crises looming, including a global pandemic and ongoing climate change, environmental degradation, and pollution crises. In 2021, we must take concerted measures to transition from disaster to healing, and we must understand that nature conservation, ecosystem restoration and transitioning out of fossil fuel reliance are critical to the survival of our world and humanity.
Sometimes referred to as the "People's Day", we are called to do something good for the world. This year, the UN in Somalia managed to have a COVID-19 safe and volunteer-based beach cleaning exercise. Personnel from the UN, NGOs and AMISOM cleaned the beach area often used for recreational activities.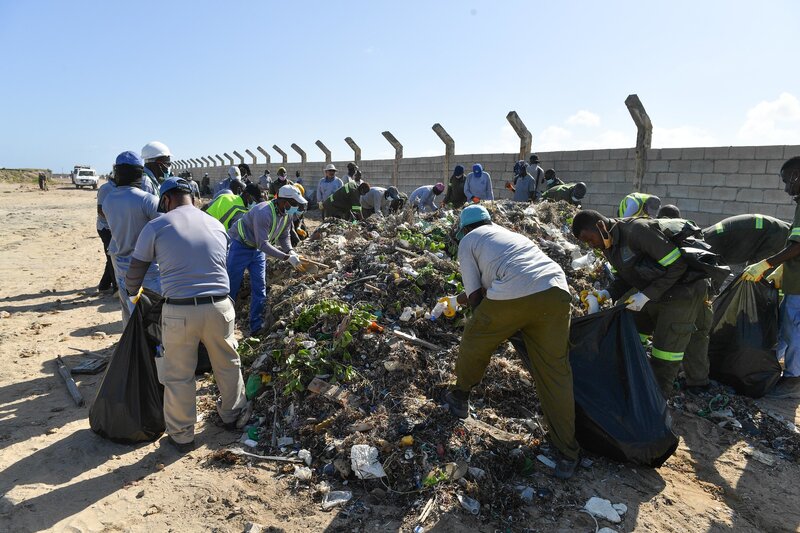 Additionally, to maximise the effort of ecosystem restoration through reforestation, UNSOS established a nursery in its compound within Aden Abdulla International Airport for tree seedlings production for planting by AMISOM, UN personnel, local communities, and contractors. The nurseries shall be replicated to all sectors. UNSOS is also replanting by dropping seed balls using drone as is currently being done in Baidoa. During the world Environment Day, AMISOM planted 800 tree seedlings (700 in AAIA and 100 in Baidoa)
Considering this day and its theme, each one of us is encouraged to channel his or her effort into a collective force that will leave a tangible legacy and enduring effects on the land of Somalia.