Somalia-bound Sierra Leone Police Undergo UNSOS-Monitored Pre-Deployment Training
Freetown, Sierra Leone - The United Nations Support Office in Somalia (UNSOS) and the African Union Mission in Somalia (AMISOM) peacekeeping mission have successfully concluded a Monitoring and Evaluation (M&E) exercise to establish the preparedness of the Sierra Leone Formed Police Unit (FPU) through a Pre-deployment Training (PDT) ahead of their deployment to Somalia to serve under AMISOM in April 2022.
The five-day M&E review conducted in Freetown, Sierra Leone between 17 to 21 January, established that the content of the PDT delivered to 190 Officers by Sierra Leone Police (SLP) Trainers, 160 of whom are to deploy to Somalia as an FPU under AMISOM, is in line with the AU and UN Mandatory PDT requirements for all Troop and police contributing countries (TCCs/PCCs), and that, the facilitators effectively delivered the training.
UNSOS PDT Support Trainer, Mr. Johnson Chelelgo, led the joint monitoring and evaluating exercise.
"Based on the After-Action Review, the PDT was conducted in accordance with AU/UN standards in terms of content and delivery. The expected objectives and goals were achieved. The participants comprehended the PDT modules and showed commitment to apply the acquired knowledge in AMISOM. Those who previously worked in the mission area agreed that PDT knowledge is very relevant for AMISOM and assisted them to conduct their operations in a very professional manner and contributed to their effectiveness and efficiency in AMISOM operations," said Mr. Chelelgo.
Topics covered  included an overview of Somalia's political history and conflict, legal framework for AMISOM Peace Support Operation (PSO) in Somalia, Women, Peace and Security in PSOs, AMISOM Formed Police Units (FPU) directives on the use of force, AMISOM Concept of Operation (CONOPS), AMISOM rules of engagement, UNSOS logistical support to AMISOM, Conduct and Discipline, Environmental Compliance and Natural Resources, Health and Safety in Somalia, Civil-Military Coordination (CIMIC) and Somali Cultural Awareness.
AMISOM Senior Advisor on International Humanitarian Law (IHL) and International Human Rights Law (IHRL), Dr. Omar Alasow emphasized on the obligations of Troop Contributing Countries (TCCs) and Police Contributing Countries (PCCs) in view of  the UN Secretary General's (S's) Human Rights Due Diligence Policy.
"The Policy requires UNSOS to put in place measures to actively and closely monitor the conduct of AMISOM and SSF. If information of grave violations of the law being committed is received, UNSOS must immediately intercede with and advise AMISOM and SSF leadership with a view to ending such violations.
In the case where, despite intervention, such violations continue to occur and the authorities fail to take corrective mitigatory measures, UNSOS can suspend or withdraw its support from recipient units." said Dr. Alasow
Trainees of the PDT in Sierra Leone said the training was an eye opener for them and they believe with the knowledge gained they are now ready to serve.
"Pre-Deployment training helped me understand the lay of the land in Somalia especially Kismayo where the Sierra Leone contingent will be deployed, and also gave me an understanding of the mandates of the African Union, United Nations, and how we fit in as Sierra Leone Formed Police Unit 4. With this knowledge, we surely cannot be found wanting when we deploy," said Chief Superintendent of Police (CSP) Mohamed Kugba Allieu, who will be the Contingent Commander of the Sierra Leone Police Unit upon deployment to Somalia. 
His assistant, Deputy Superintendent of Police (DSP) Julius Kabba Koroma said the knowledge gained will improve his efficiency as a leader.    
"Pre-Deployment Training gave me great insights into the mission theatre, specifically the Do's and Don'ts, and awareness of the concept of operations. As a leader, this will help me work effectively and efficiently," DSP Kabba added.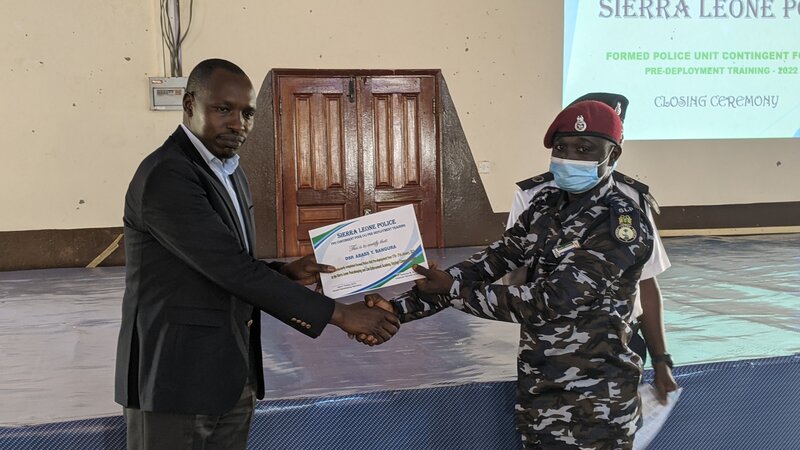 On 15 May 2017, the responsibility of the AU-UN Mandatory Pre-Deployment Training was transferred to the respective T/PCCs, in line with UN training policy. A Training-of-Trainers (ToT) that was delivered by UNSOS in February 2018 ensured that the selected national trainers in each of the T/PCCs received the expertise needed to prepare officers for deployment, with UNSOS monitoring the activities in the different countries.
Uganda, Kenya, Burundi, Ethiopia, and Djibouti contribute troops to AMISOM, while Ghana, Sierra Leone, Uganda, Kenya, Nigeria and Zambia contribute police officers to AMISOM.