Get to Know the Women Driving Technology Business Intelligence in UNSOS
BUSINESS INTELLIGENCE TEAM, UNSOS
The Field Technology Section (FTS) is a critical area of support in the United Nations Support Office in Somalia (UNSOS), providing information and communication technology (ICT) services to the mission as well as to the African Union Mission in Somalia (AMISOM) and to the United Nations Assistance Mission in Somalia (UNSOM). 
Among its portfolio of services, FTS recently added Microsoft Power BI—a business analytics tool that is used to analyze, visualize and share data from different sources and in various formats. UNSOS heavily relies on Power BI for data extraction to support its field operation. It also relies on the all-female FTS team that manages the tool and the mission's business intelligence (BI) function.
Meet the BI Team
Three female /analysts lead the way in promoting Data Science in UNSOS: Ilaria Rosaria De Leo, Business Intelligence and Graphics Officer; Juliet Kabuleeta, Business Analyst; and Raquel Pancada, Geographic Information Systems (GIS) Officer and Data Analyst.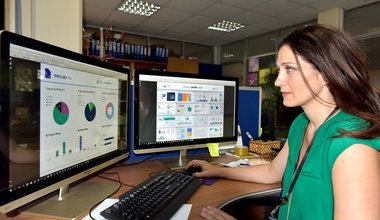 Ilaria Rosaria De Leo
Ilaria Rosaria De Leo has worked for UNSOS since February 2011 as an infographics specialist. She has since embarked on projects to design the FTS branding materials as well as to generate the first-ever data-driven FTS Annual Report for the 2018 financial cycle. It was a natural progression for her to gravitate towards Power BI as she already understood the power and value of data visualization for the business as an infographics officer. As a self-taught Power BI user, she was then able to explore its features on some prototype dashboards, which caught the attention of the Chief FTS who eventually brought her into the mainstream of the BI efforts for the mission. "Power BI has enhanced the way I manage and present data, particularly through its capacity to aggregate data from multiple sources and to create relationships. Additionally, it is very intuitive and provides great visualizations that can be accessed through any device and from anywhere".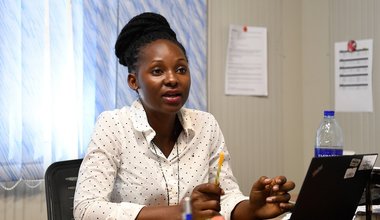 Juliet Kabuleeta
Business Analyst Juliet Kabuleeta oversees the FTS Asset Management Unit and controls the movement of ICT equipment in the mission area. Juliet is on her way to obtaining her Master's degree in Supply Chain Management this year. She describes Power BI as "groundbreaking" in a mission that needed disruptive technology, such as the BI tool, to seamlessly turnaround Her work requires frequent use of Power BI: "Data drives business success because without it, you cannot tell where you are. So, information is key, since it provides you with a guide, and this information can only be managed by these kinds of tools". She joined UNSOS in August 2015, worked in the Telephone and Billing Unit in Mogadishu and, later, as a Team Lead in the Mail and Pouch Unit. In December 2018 she joined FTS as a Business Analyst, supporting the rollout of the Power BI strategy.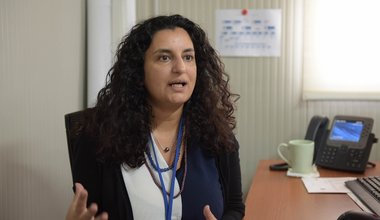 Raquel Pancada
Raquel Pancada is a member of the GIS team that provides and customized mapping products to AMISOM, the UN and to partners. She also produces monthly statistical dashboards for the FTS Innovation and Technology Unit. What separates Raquel from the rest of the team is her aptitude to use existing data and turn it into something meaningful for decision-makers. Since her training Data Science, she was able to produce BI dashboards for the section that also correlated with the ARCGIS platform. The strides she has made over the months has been tremendous and her potential in this area is immense given more time and various use-case scenarios to benefit the mandate of UNSOS. "Before, I was just using Excel graphics and pivot tables", she said. "Power BI as a tool, gives you a lot of insight to large data sets. Also, if you do the right analysis, it can provide you valuable information for use in decision-making".
ICT Women Trailblazing in Fragile Peacekeeping Environments
With Data Science as a philosophy of a data-driven organization, Power BI has eased the processing of information and provided a cutting-edge business solution to mission clients, in particular the decision-makers. The FTS BI team has achieved outstanding results in tasks and performance monitoring, providing simplified, visualized presentations that enable FTS management to easily identify and address any performance gaps in its own operations. Some realizations have even led to further exploration and discovery of deltas to uncover other ensuing questions and eventually understand the business model better.  
Additionally, these women are role models and ICT trailblazers who choose to work in fragile peacekeeping environments. 
"Very often women are reluctant to accept a job offer in fragile areas, such as Somalia, mainly due to the lack of information on living, working and security conditions in these places", said Ms. Leo. 
She noted that through the UN strategy of gender parity, which promotes equal opportunities for men and women, more women in the UN are increasingly challenged to take up similar jobs in field missions. Positions in the BI field, for instance, require proficiency in communication technology, an analytical mind and business-client orientation skills. She her female colleagues to apply for these and other ICT positions in the future, and she proposes the introduction of a plan to sensitize and attract women to technology jobs, which have traditionally been a reserve for men. 
"I am particularly proud of how our women have now become front and in our strategy to promote Business Intelligence in the mission", said Allan Canonizado, Chief FTS UNSOS. "Where technical jobs have been the more prominent functions in the past and were mainly male dominated, I believe the introduction of Data Science and the positive contributions it would create for the Organization have now provided our female colleagues with an opportunity to also shine unlike before. This is just a start, and uncover gems within our female cadre in the section through training, coaching and proper mentoring--most of whom have all the potential within the ICT community to break the glass ceiling through a career in Data Science".