"How to do business with the UN" seminar ends in Baidoa
Baidoa - The United Nations has concluded a two-day seminar for Somali entrepreneurs on "How to do business with United Nations."
Organized by the United Nations Support Office in Somalia (UNSOS), the seminar sought to educate the business people in the region how to register as vendors in the United Nations Global Marketplace (UNGM), the procurement portal of the UN system of organizations.  The Seminar not only educated potential vendors, but also informed how to identify business opportunities in the UNGM.
The UNGM brings together UN procurement staff and the vendor community and acts as a single window through which potential suppliers, who want to do business with the UN, may register with various UN organisations using the portal as their vendor database.
The workshop was attended by representatives of South West Chamber of Commerce and Industries as well as owners of various companies.
 "The purpose of this business seminar is to help the locals and teach them how to enter into UNGM and how to do business (with the UN)," Mr. Kofi Bannerman UNSOS Procurement Officer explained, adding that the UN was keen to strengthen ties with the South West State's business community.
South West State Minister of Commerce and Industry, Mr. Warsame Muhamad Dhaqane, officially opened the seminar, stating that the meeting will help acquaint the local businessmen and women on opportunities available and benefits of doing business with the UN.
"Today, we opened a seminar for Baidoa business community, comprising big and small companies, and the chamber of commerce, to train them on how to do business with the UN," the minister said, noting that the UN and the federal state had been holding discussion on ways of expanding business opportunities for the host population.
The minister hailed the good relationship existing between the UN and South West state and expressed optimism that more local companies would be able to do business with various UN agencies in the near future.
During the seminar, Margarito De Castro Jr, UNSOS Procurement Officer took participants through the workings of the UNGM.  He noted that the registration of 23 area companies on the UN portal during the seminar was proof that vendors were ready to do business with the UN.
Speaking after the closing of the seminar, Isak Noor Aden, a representative of Deksuf Construction and General Service Company, commented that the participants acquired useful information about doing business with the UN.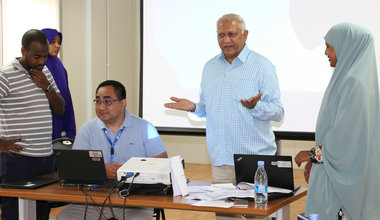 "I am delighted to participate in this seminar which focused on how to register and do business with UN. We gained a lot of skills which will benefit us and the South West State in future," Mr. Aden said.
The seminar is the third to be organised in South West State, following the holding of two others last year.